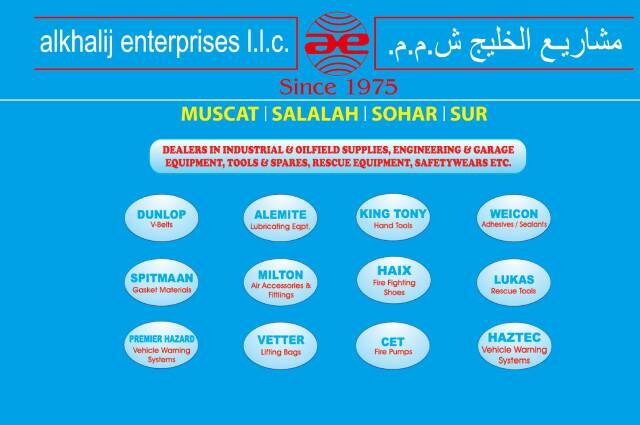 About alkhalij Enterprises llc
alkhalij enterprises llc, is an Omani family owned company, serving Oman market since 1975. It is one of the leading and reputed trading companies dealing in Oilfield, Industrial, Engineering & Garage supplies, Tools & Hardware, Safety & Security products etc.
alkhalij's main lines of products are Bearings, V-Belts, Filters, Hand Tools, Batteries, Adhesives & Sealants, Gasket Materials, Hoses & Fittings, Material Handling products, Safety-wears, Garage Equipment and allied products.
The special lines of products are Rescue, Traffic Hazard Warning System, Security, Surveillance, EOD/IEDD, TSCM and Personal Protection Equipment etc.
alkhalij holds several agencies and import the products from several countries mainly USA and Europe.
With the management and staff highly skilled and motivated and through the cooperation of its suppliers and customers, alkhalij has earned a reputation for delivery of quality products and excellent customer service that enabled the company to grow and establish its network in Muscat, Salalah, Sohar & Sur